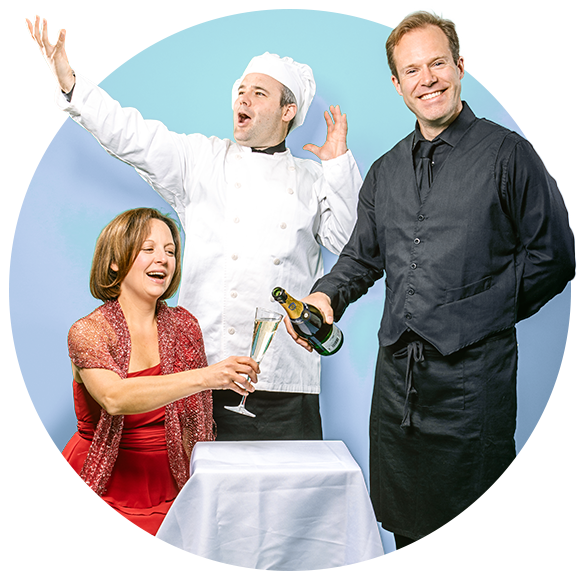 About The Fabulous Singing Waiters
We are a unique act at the top of our game that will shock and surprise, wow and amaze. That, and we'll do it with class and style so that you can enjoy the performance without worrying what your very cultured and possibly somewhat reserved boss or father-in-law might think of the extraordinary diversion. Admittedly we're not very good at waiting tables, so please don't cancel any of your proper catering staff! In fact, we shouldn't be trusted with a dirty plate and can't be relied on for fine French service… however we are quite good with a bottle of wine! We rarely work in the same venue two nights in a row, however, we do so often get asked back despite our poor waiting skills!
What's the recipe?
Well, first take some exceptional raw singing talent, add about 6 to 8 years of rigorous formal vocal training (per performer) including a number of cumulative masters degrees from Guildhall, The Royal Academy of Music, The Royal College of Music, Trinity College of Music, the San Francisco Conservatoire of Music, the Royal Northern College of Music and a couple others; add in another few years of experience on stages such as Glyndebourne, The Royal Opera House, Covent Garden, Opera Holland Park, Grange Park Opera, and many of the smaller production companies around the UK…. hmm, then add the experience of performing for hundreds of private parties and events of every nature and description; an essential excess of personality and the ability of laughing at oneself.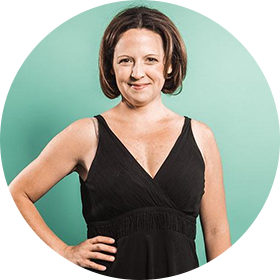 Sara
Sara is one of the original members of The Fabulous Singing Waiters and has enjoyed performing with the act since shortly after she finished grad school at The San Francisco Conservatory of Music ten years ago. She is a soprano who loves her lead roles and to flit around the dining room (ideally one filled with your guests, but one would imagine she does the same at home) singing "I feel pretty" and if you will let her she will always choose one of your guests (the one with the brightly coloured suit or most extraordinary neck tie) for a dance while serenading him to "I could have danced all night" to finish off the show.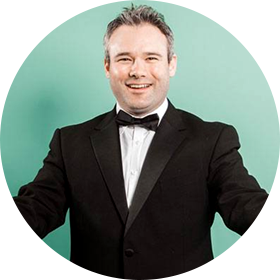 Russell
Well what can one say. Character seems a relative understatement unless we're referring to one of those by Guilbert & Sullivan or straight out of Monty Python. Graduated from The Guildhall School of Music and Drama Russell has also sung with The Fabulous Singing Waiters for a decade. He is an exceptionally diverse and unique performer who can equally manage the extremely distinct skills needed for performing full opera and for the lighter musical theatre repertoire. Though you would probably find him most at home performing Guilbert and Sullivan, his "Nessun Dorma" is a show stopper and his "Bring Him Home" from Les Miserable will bring a tear to any eye.
Catherine
Catherine is another soprano with extremely diverse vocal abilities and a flair for the fun and dramatic. She graduated with Russell from The Guildhall and has been singing with us, recruited by Sara, that same year. When performing with Sara she will take on the role of counter-diva all too naturally. As well as her flirtatious operatic "Habanera" she often "Can't help lovin' dat man", and does love a sing along of "That's Amore"! Cath also has a particularly natural flare for gorgeous though spontaneous vocal harmonies, so it's always fun to be in the room with her to see and hear what she comes up with!
Simon
Simon is a true bass extraordinaire! Standing at a full two meters tall he is not a man you would want to pick a fight with, though to be fair if you did you won't get very far because you would only receive a good belly laugh for your efforts. Though he won't be interested in a fight, his modesty is certainly misplaced when he delivers his stunning rendition of "I got plenty o nuttin'". Also a graduate of the Guildhall School of Music and Drama and decade long member of The Fabulous Singing Waiters Simon has quite a lot more than nuttin' to offer!
Alberto
Well, if it's a true operatic tenor diva you want, look no further. This tenor will put shivers down your spine with his sublime "Nessun Dorma", his interpretation of "O sole mio" will have you craving ice cream, and his toast to "The Brindisi" will have you singing along and forgetting that you're not in fact a member of the Royal Opera Chorus. He is a fantastic Portuguese singer graduated from the Universidade de Aveiro and has been singing with The Fabulous Singing Waiters for about 6 or 7 years. He is definitely a budding opera star in the making!
Lisa
Lisa is an Australian mezzo-soprano who's sublime voice brings yet another layer of charm and beauty to the ensemble. She graduated with her masters degree from the Sydney Conservatorium of Music but also studied in Italy and the UK. Lisa's been singing with The Fabulous Singing Waiters for about 8 years and her deep mezzo voice easily wins the hearts of every audience. Her playful rendition of "All that Jazz" is always a favorite.
Ted
Ted is another of our fabulous tenors within our ranks who has worked performing internationally for a number of years. He is an American singer hailing from Minnesota. He trained at Norwestern University and did his graduate study at Manhattan School of Music. Ted has also been performing with us for seven or eight years and his talents also span the spectrum of vocal skills from full opera to light musical theatre.
Maciek
Maciek is yet another fantastic performer amongst the group that we like to brag about. With a postgraduate degree from the Guildhall School of Music and Drama as well, he is not just another pretty face! There is no shortage of skill here. He is a superb baritone who's "Non piu andrai" will really put you in your place… though you don't need to twist his arm to get him to do a really tremendous Elvis impression!... "It's now or never" . You know for certain that when Maciek turns up it really will be "Some Enchanted Evening".